Next | Prev | Up | Top | Index | JOS Index | JOS Pubs | JOS Home | Search
---

Shift Theorem


Theorem: For any

and any integer

,



Proof: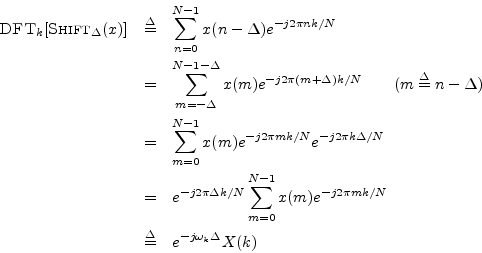 The shift theorem is often expressed in shorthand as

The shift theorem says that a delay in the time domain corresponds to a linear phase term in the frequency domain. More specifically, a delay of

samples in the time waveform corresponds to the linear phase term

multiplying the spectrum, where

. (To consider

as radians per second instead of radians per sample, just replace

by

so that the delay is in seconds instead of samples.) Note that spectral magnitude is unaffected by a linear phase term. That is,

.



---
Subsections
---
Next | Prev | Up | Top | Index | JOS Index | JOS Pubs | JOS Home | Search
---
[How to cite this work]
[Order a printed hardcopy]
---