Next | Prev | Up | Top | Index | JOS Index | JOS Pubs | JOS Home | Search
---
This book is the second in my music signal processing series, after [83]. The books can be loosely summarized by the following ``design goals'':
Figure 1 illustrates the dependencies. A solid line indicates a strong dependence, while a dotted line indicates a much weaker (optional) dependence.
Figure 1: Schematic of interdependencies in the music signal processing book series, along with some closely related topics.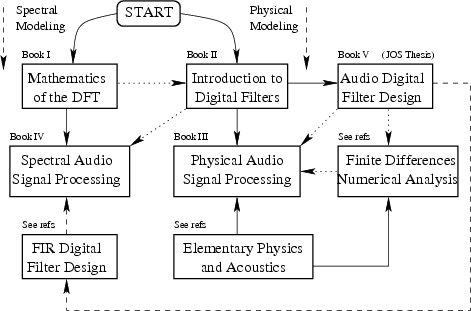 The books were originally designed for a two-year course sequence in signal processing applied to music and audio (semester system preferred). The student is expected to pick up elementary physics [33] and programming skills [82,15] elsewhere. In all books, the main chapters contain approximately what is covered in class, while the appendices provide both elementary background material and additional advanced topics.
---
Next | Prev | Up | Top | Index | JOS Index | JOS Pubs | JOS Home | Search
---
[How to cite this work]
[Order a printed hardcopy]
---